By Alison Gould // NASA GODDARD SPACE FLIGHT CENTER, MARYLAND //
NASA's Medium Range Ocean Dynamics Experiment (S-MODE) relies on two aircraft, 17 remote-controlled vehicles, a ship and dozens of drift instruments to conduct its detailed study of ocean eddies, currents and eddies. The researchers aim to assess how small, high-energy ocean events contribute to circulation and heat exchange at the top of the ocean, and how the oceans affect climate change. The instruments are centered in an area of ​​7,800 square miles (about 20,200 square kilometers) west of San Francisco Bay, which the researchers dubbed the "S-MODE Polygon."
But one of the mission's most important tools, its Control Center, is not on site. The Control Center is a virtual daily meeting where up to 40 scientists gather to share new data, check mission assets and plan where to maneuver their instruments and vehicles to capture the most useful measurements.
S-MODE researchers study meso-ocean processes such as eddies – eddy pockets of ocean water that extend for about 6.2 miles or 10 kilometers and often only last for a few days. Because eddies are relatively small and quickly fade, they can be difficult to study. Opportunities to study these processes often appear without warning. To study these events, the S-MODE team needs to be able to move their vehicles quickly and strategically within the polygon.
For example, an airborne instrument may detect an eddy or a vortex developing. Scientists may then decide which water measurements they wish to collect, and agree to send the appropriate mission vehicles to the site of interest. Scientists discuss such decisions at control center meetings.
During the call, representatives of each of the assets begin providing their status updates.
Dragana Perkovic-Martin, principal investigator for DopplerScatt, an S-MODE airborne instrument company, said at NASA's Jet Propulsion Laboratory. "Based on that decision, we identify the assets we need in that location and place them in the appropriate area."
[adace-ad id="1230"]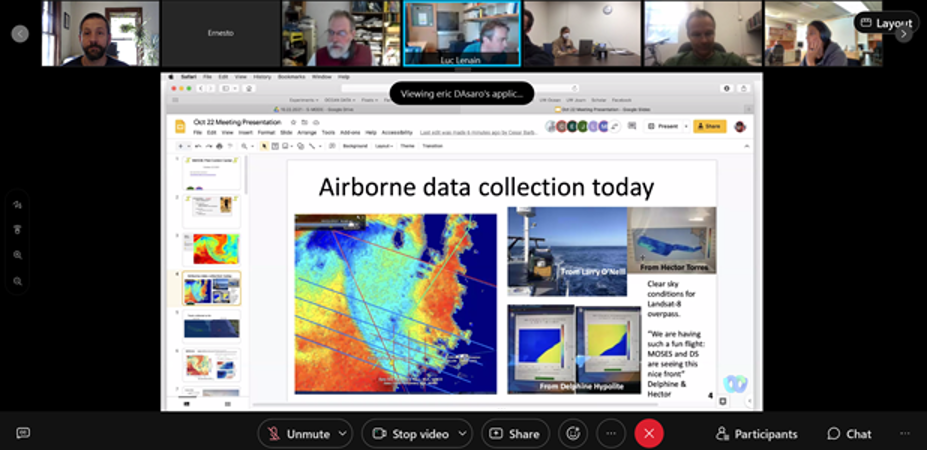 The control center was originally to be hosted in person at the NASA Ames Research Center in Silicon Valley, California.
"The idea was for a group of us to work together there to examine conditions and data and update the plan as things developed," said Tom Farrar, principal investigator for S-MODE and a scientist at Woods Hole Oceanographic Institution in Falmouth, Massachusetts. With COVID-19 cases rising in the late summer of 2021, the team decided to switch to a virtual format. Now, the only people in the field are those who cannot complete their work remotely, such as those who fly planes or collect measurements on a ship.
All of the scientists involved in S-MODE have done conventional field deployments before, Berkowitz Martin said. But few have experience coordinating an expedition from a virtual control center. The group adapted quickly with the help of online platforms including Slack, WebEx, email and Zoom.
"The control center works in the same way that it was originally envisioned, with a group of people trying to get as much information as possible about what's going on to make decisions about the plan," Farrar said.
One of S-MODE's deputy principal investigators, Professor Eric Dasaro of the University of Washington, is leading the control center meetings, with the goal of concluding each meeting with an updated plan for the next few days.
"We have benefited greatly from Eric's enthusiasm and experience in other large field campaigns," Farrar said. "We have an amazing team of experts and specialists, and I'm really excited about the curated set of data that the team is putting together."
Adsgeni code is : 748912
[adace-ad id="1230"]
[adace-ad id="1230"]